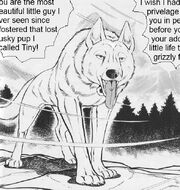 Howaito Senshi is a wolf who's related to
Saikuchi
, but their relationship is unknown. He wears a necklace with a tag that has the red dot on the Japanese flag on it. He's also ranked a Sekiwake fighter, but Saikuchi constantly tries to get him to live as a wild wolf like him, his pack, his brother, and all the other wolves even though he sometimes visits the mountains.
His mate, Chisaki is a guard dog who sometimes visits him at his home. Their two daughters, Sayoko, Miki, and son, Daisuke also live with her which Howaito Senshi calls "heartbreaking" because he feels lonely at his home with nobody living with him but his owner. This makes him decide to return to his rightful home: the mountains. However, when he hears that Saikuchi has become traitorous, he hopes to live far away from him.
As he heads for the mountains, he runs into Oscar, Tsuneru, and Fuan who is carrying Daisuke's body. Oscar tells him that the strong Tosa known as Takeru killed him. He grieves heavily as he continues his journey and when he makes it there, he runs into Saikuchi whom he fights and almost kills.